Here at Wettstein's, we are proud to be the local lighting company of choice for La Crosse and surrounding areas. As a locally owned and operated business, we are passionate about helping our neighbors and friends find the right lighting design for their needs.
One area we can help you design the right lighting for is your outdoor living space. Outdoor lighting is not only helpful when you are entertaining guests on your patio, it is also a great way to improve the safety of your home.
If you have been considering adding outdoor lighting for safety, then read on to learn more about how you can utilize these lights to keep you and your family secure.
Designing The Perfect Lighting For Your Space
Choosing the right lights for your space will go a long way in ensuring you keep your home safe. The right outdoor lighting is not only helpful for keeping away intruders, it is also helpful in ensuring your walkways are easily navigated in the dark.
So how should you design your outdoor lighting space? Check out this helpful guide to learn more about the options you have.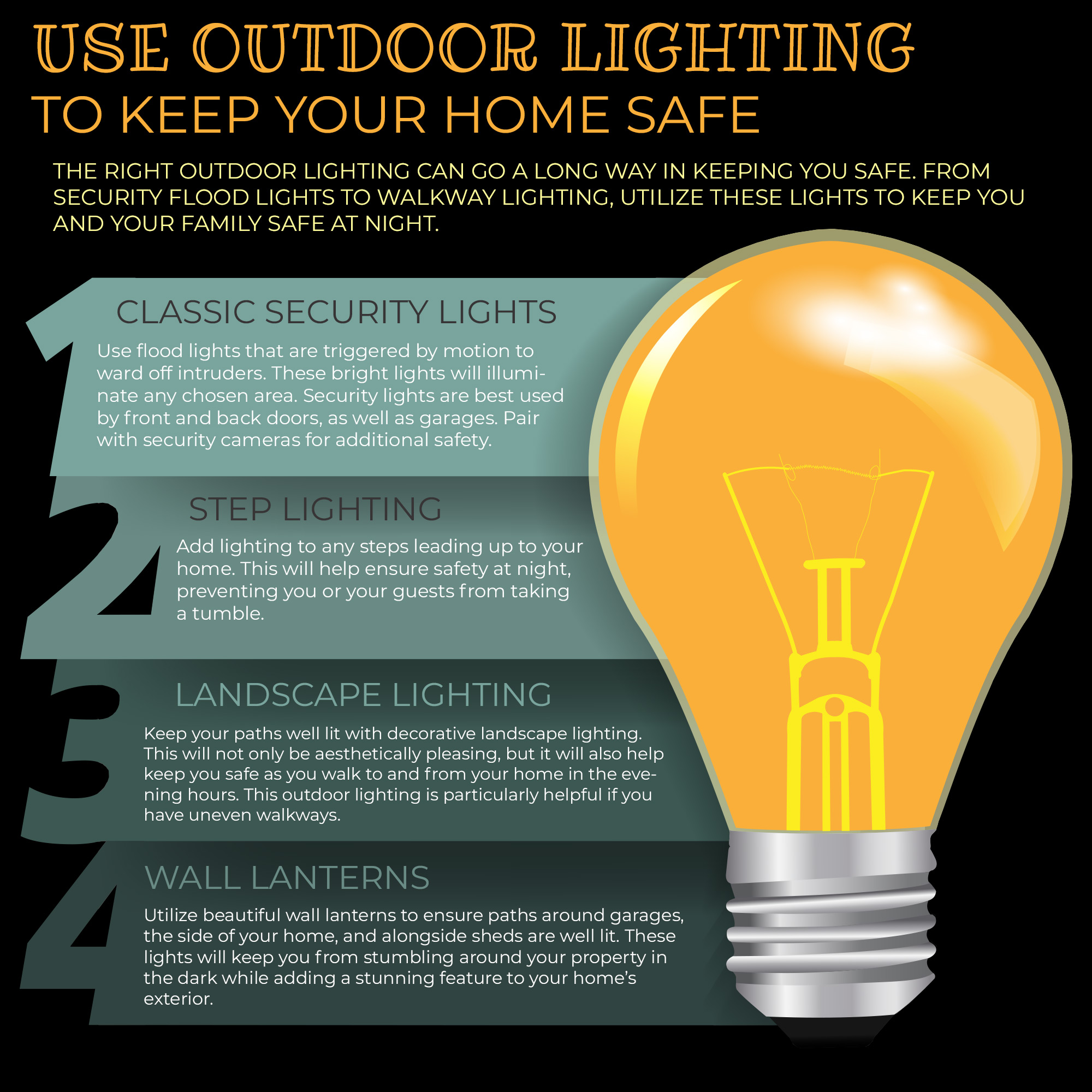 Interested in any particular outdoor lighting feature mentioned above? Read on below for more details about each lighting style.
Security Lights
Security lighting has been a go-to choice for many homeowners when it comes to deterring intruders. Security lights usually operate with a motion sensor that triggers the light whenever someone approaches your home.
These lights are perfect for installing over doorways and by garages. Not only will sensor lighting aid in keeping intruders away, it will also be convenient for you as you approach your home in the evenings. Instead of fumbling with your keys in the dark, you can enjoy the bright lighting from your security lights.
Gone are the days of this type of floodlighting looking tacky or overstated. Today you can find subtle, modern, and stunning designs for security lights.
Step Lighting
If your walkway has staircases or steps, make sure these areas are well lit. Steps can be extremely dangerous in the dark. This is particularly true if you have anyone who is elderly living with you or visiting your home. Keep your loved ones and visitors safe with the proper step lighting.
You can choose to illuminate your steps with lights that are installed inside the steps or you can install standing landscape lights around the area.
Landscape Lighting & Wall Lanterns
While your stairways are one of the most important parts of your landscape and walkways to light, it shouldn't stop there. A well-lit walkway will ensure you can safely navigate both your front and backyard even on a moonless night. Use landscape lighting and wall lanterns to keep sure footing on uneven pathways.
From free-standing lanterns to small path lights, you can choose the right style for both your taste and your budget. Implement wall lanterns alongside your house and garage to complete your outdoor lighting.
Talk To Us About Lighting Designs By Wettstein's

Ready to illuminate your outdoor living space while enhancing your home's safety? Reach out to our team today to learn more about how we can help you with lighting designs. If you have been on the hunt for lighting shops near you, we hope you will stop by Wettstein's in La Crosse and talk to a lighting specialist today.